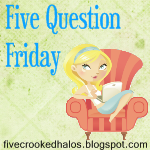 1.
Do you collect anything?
Books. (Not really intentionally, I just buy them and read them and then never take them to a used book store so they just.. well, pile up.)
2. Name 3 celebrities that you find good looking.
Aren't most of them? I thought that was requirement #1, or at least somewhere before requirement #57, "acting skills"
3. Do you have any scars? If so, what's the story behind them?
A dog bite, a bicycle accident, and that one time I was shaving my legs with a new razor blade.
4.
What is a food that you like to eat, but others might think it's gross or weird?
I LOVE hummus. I mean, I lovelovelove hummus. I could eat hummus all day, every day.
5. Have you ever seen a tornado in real life?
I spent my formative years in Kansas. What do you think?